OSSAT Download: Earth Observation Concept Of Operations
In our first CONOPS article, we described the purpose of Concept of Operations (CONOPs) documents and the reasons why we have been generating them for the different applications that we want the Open Source Satellite to be able to service. We are therefore excited to announce the release of our Optical Earth Observation CONOPs! This document describes in detail what an Optical Earth Observation payload requires from the platform and how such missions typically operate.


Earth Observation Missions and Applications
Earth Observation encompasses many different specific applications. This document focuses on passive electro-magnetic radiation imaging using panchromatic, multispectral and video imagers. Missions with these types of imagers are used for a multitude of applications such as:
Disaster monitoring – floods and fires
Crop monitoring – vegetation coverage
Environmental monitoring – land use change such as illegal logging
Urban planning – Housing needs and monitoring road/car park usage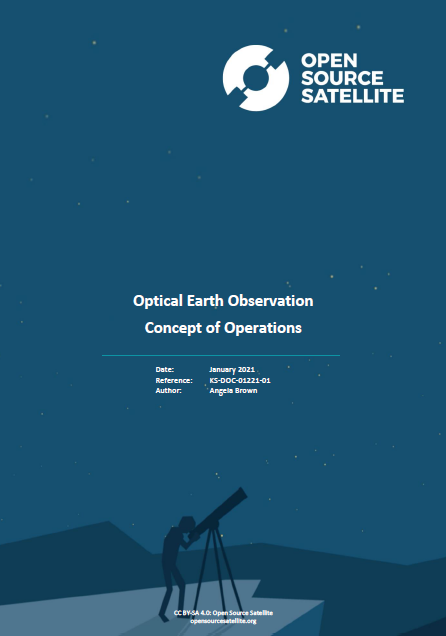 Click to download your copy of the OSSAT EO CONOPs
The Earth Observation application has some demanding needs of the platform such as the requirement for highly accurate and stable pointing and very high data storage requirements. We envisage Earth Observation being a major use of the OSSAT platform which is why we have released it as our first CONOPs.
We are going to continue releasing our application-specific CONOPs documents over the coming months. Be sure to monitor OSSAT News for the release of the Internet of Things CONOPs next!
We'd love to hear your thoughts about the OSSAT Optical EO CONOPs:
share your feedback in the Comments below.
www.opensourcesatellite.org exists to create an environment that supports and enables entrepreneurial and innovative thinking, with the aim of taking the next step in small satellite capabilities.
Join our Community, Register to collaborate and Follow us to be part of the journey!