Satellite 4.0: Leveraging Terrestrial Innovations for Space
IAC 2019 attracted more than 4330 abstracts and we were delighted to have been invited to deliver two presentations about the Open Source Satellite Programme in Washington, D.C., 21st-25th October 2019. 
Here's the first interactive presentation; download a copy.
Under the theme "SPACE: The Power of the Past, the Promise of the Future", IAC 2019 offered an extensive and multidisciplinary Technical Programme that reflected the diversity of disciplines within space.
The Open Source Satellite: Spinning in "Best-Of-Breed" Space and Terrestrial Innovations to Spin Out Affordable New Mission Ideas
The spin-out of technologies from space into terrestrial applications during the past 50 years has made a direct impact to the lives of people on Earth. A key challenge for coming decades is improving the affordability and accessibility of space systems, to truly democratise space and enable further progress. We have identified several current and emerging terrestrial technologies which can spin-into satellite platform production and operation, to enhance the price-performance point and stimulate more missions in LEO, MEO, GEO and interplanetary space.
This presentation discusses the objectives of the  programme, the Model Based Systems Engineering approach that we are applying to satellite development, including: Mission ontology, Requirements capture and analysis, Functional analysis, Performance analysis, System design, Trade studies, System architecture specification and System Verification and Validation. The presentation describes some of the approaches that the programme will adopt to enable cost-effective, low-volume spacecraft production "On-Demand", in contrast to the current trend for high-volume manufacture. 
The presentation also describes the longer-term roadmap and how, by improving the level of integration and robustness within the platform, the Open Source Satellite Programme approach will allow subsequent platform variants to meet the needs of missions in harsh Earth orbits and interplanetary missions.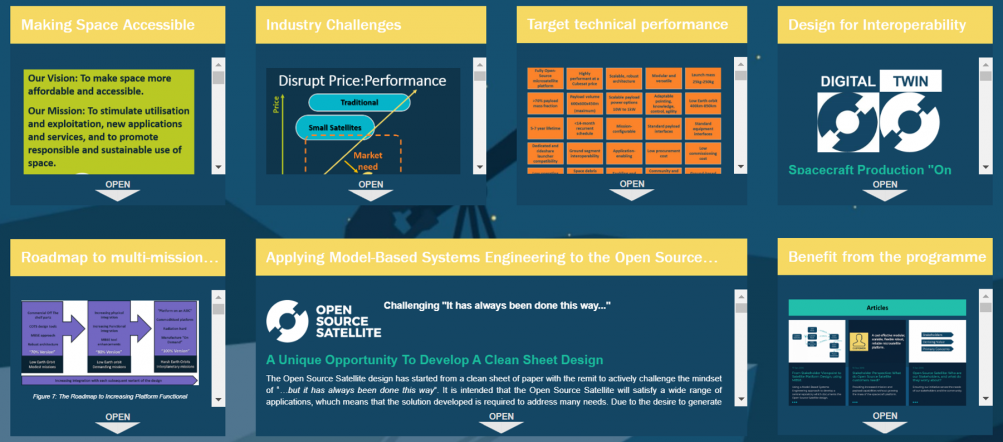 IAC 2019 Session Details: Symposium D1 - IAF Space Systems Symposium
The Space Systems Symposium, organised by the International Astronautical Federation (IAF), addresses the present and future development of space systems, architectures, and technologies, with sessions on System Engineering Methods, Processes, and Tools; Enabling Technologies for Space Systems; Significant Achievements in space systems with implications for Lessons Learned and future Training and Practice; Advanced System Architectures; Cooperative Space Systems, and Innovative and Visionary Space Systems of the future.
Paper code: IAC-19,D1,IP,3,x50820
What are your thoughts on how to deliver Satellite 4.0? Email us or let us know in the Comments section below.
 www.opensourcesatellite.org exists to create an environment that supports and enables
entrepreneurial and innovative thinking, with the aim of taking the next step in small satellite capabilities.
Join our community, follow us and be part of the journey!