Announcing the release of our Open Source Satellite Programme Manifesto
The world's first open source microsatellite platform
We're really excited about developing the world's first open source microsatellite platform and we look forward to the possibility of collaborating with you!
We are delighted to release the Open Source Satellite Programme Manifesto
This Manifesto is intended to be the primary reference for The Programme, to serve as guidance throughout all phases of The Programme.
The Manifesto describes the approach for the development of a flexible, robust, low-cost microsatellite platform, making the design freely available for anyone to utilise and benefit from, and for realising this vision in a sustainable, enduring way.
All contributors to and beneficiaries of the Open Source Satellite Programme are deemed to have accepted the principles and approach described in the Manifesto.
Why did we write a Manifesto?
The Open Source Satellite Programme Manifesto describes the philosophy and approach of the Open Source Satellite Programme, which has been initiated by KISPE.
The purpose of The Manifesto is to provide clarity about the vision, philosophy, intentions, immediate and long-term goals and the approach to achieving those objectives. This Manifesto will ensure that everyone who wishes to be involved in the Programme, such as the internal team, Participants, the Community and other beneficiaries and stakeholders - is provided with the same, consistent framework and is able to make an informed decision about participating.
There are many reasons to be excited and motivated about getting involved!
Including:
Accelerating the development of a new spacecraft design that all can use
Accessing a brand-new satellite design to use in your own missions
Being part of a Community of Open Source Space enthusiasts
Building a new professional network with people from different disciplines and industries
Championing Open Source Space to make space more affordable and accessible
Developing and enhancing skills in areas that you are interested in
Flying your work in Space, knowing that you played part
Gaining hands-on experience in delivering space missions
Getting involved in an innovative approach to space
Giving something back, by sharing your knowledge, to grow the knowledge base
Improving your resume with new experiences and results
Personal satisfaction, being acknowledged for your efforts
Recognition by peers for developing and improving space systems
Supporting the Open Source culture by giving to, and benefitting from collective efforts.
Download your copy of the Manifesto
Click here or on the image below to download the Open Source Satellite Programme Manifesto.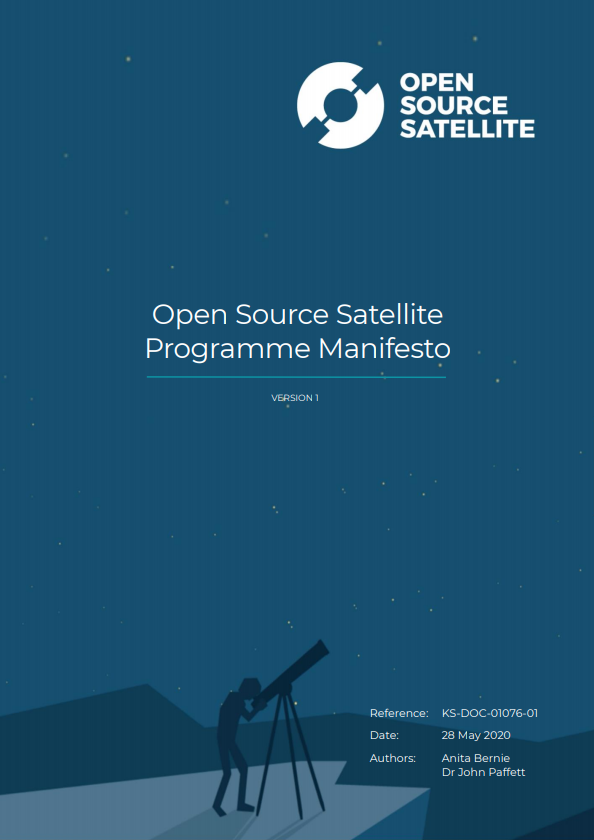 Want to get involved?
We'd love to hear from you! Get in touch to find out more or to get involved, by emailing us or registering your interest.