Acquiring and defending patents is an expensive activity. So don't do it.
Working hard, investing time, money, effort and other resources to create new ideas, products and intellectual property, then giving it away may seem counter-intuitive to many people and organisations in the space industry. 
The Open Source Satellite Programme offers an alternative, sustainable approach.
Disrupting the traditional space industry IP model
The space business remains a classic example of an industry with long design cycles and immense research and development investments. For businesses with such characteristics, IP (Intellectual Property) protection is a common tool for safeguarding and recouping on their investments. 
However, it is accepted in many industries that acquiring and defending patents is a time-consuming and expensive business. Furthermore, as the cross-cutting potential of Industry 4.0 technologies start to make an impact, it's clear that there needs to be more sharing and collaboration between stereotypically-separate businesses to create value for customers.


Let's invert the Knowledge model and Share, not Shield
Several factors are creating a positive environment for an open source approach to small satellite production, including:
·       The growth in small satellite launch availability and competitiveness;
·       The demand from commercial companies for space-enabled infrastructure and data, and
·       Increasing availability, affordability and acceptance of open source software tools
The topic of IP sharing was discussed in a recent Boston Consulting Group article entitled "New IP Strategy: Make Love, Not War".  Their IP Strategy Playbook Model provides a useful framework for comparing and contrasting the approaches of the traditional space industry and the Open Source Satellite Programme.


Classic Space Industry: Traditional approach
The space industry typically operates a Direct/Confrontational IP approach; typically through Traditional licensing and litigation if patents are infringed.  
This is a well-understood business model that many firms are comfortable with. However, there is an absence of industry collaboration and market-building with this approach, and the "closed system" nature of this model means that innovations and product improvements generally take more time to identify, integrate and implement.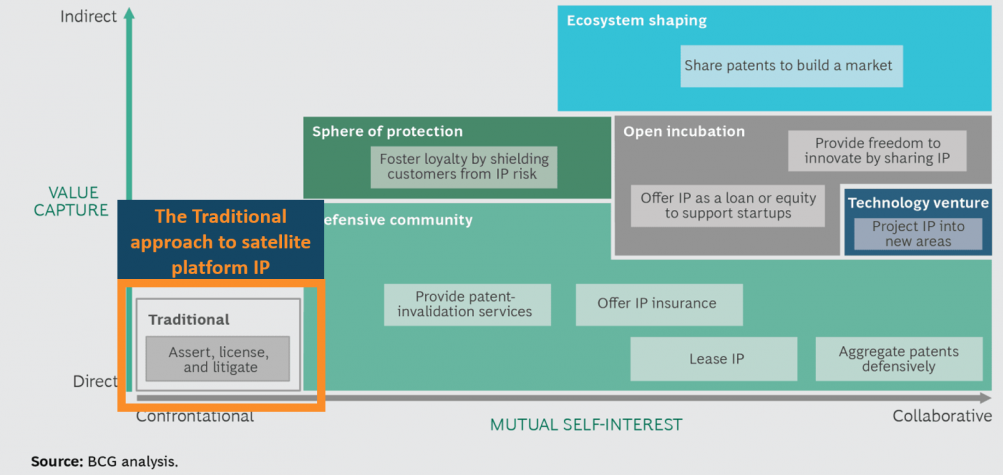 Tesla: Ecosystem Shaping
A real-life example of a company at the opposite corner of the matrix from Traditional is Tesla, which occupies the Indirect/Collaborative segment. With the selective release of patents related to electric vehicle energy storage and charging, Elon Musk's strategy is to adopt the Ecosystem Shaping approach. The strategy is to stimulate the development of new electric vehicles, which will create demand for Tesla-manufactured Lithium Ion batteries (hardware) and the Tesla Supercharger battery charging network (services). Being in the Indirect/Collaborative segment means that the capture of value is initially slower than the traditional IP approach, but that there is a high potential for market growth as other vehicle manufacturers adopt the technology for their own electric cars.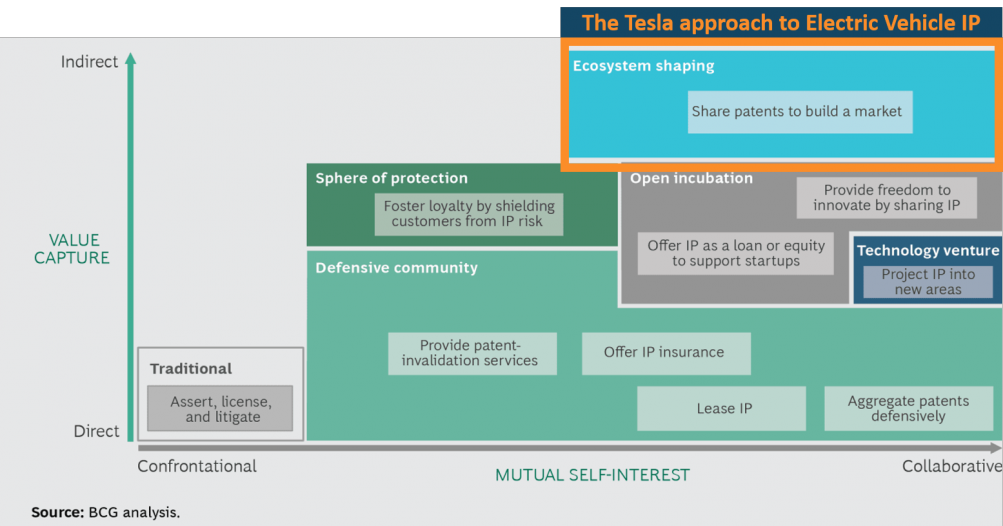 Open Source Satellite Programme: Collaborative and Indirect
The Open Source Satellite Programme activities are exclusively focused in the Indirect/Collaborative quadrant of the BCG model.
With the improvements in manufacturing technologies, it is clear that satellite platforms are trending towards becoming a commodity item. There are several consequences of this, including:
·       The difficulty in sustaining an IP protection business model when others in the market are able to design and manufacture similar systems
·       The transition of focus from the technology within the satellite; to the missions, applications and services that satellite systems can enable.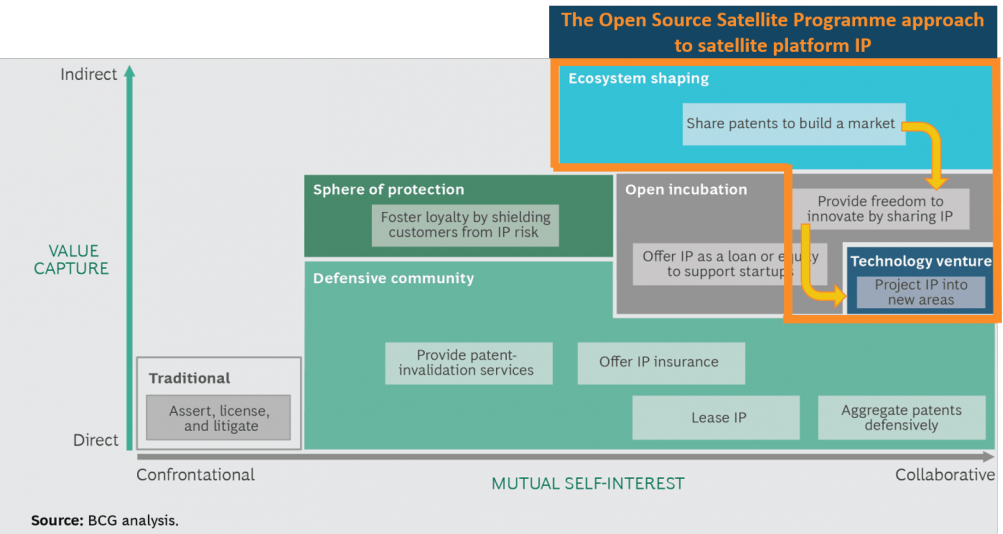 The first objective is to achieve our Ecosystem Shaping goal of making space more widely affordable and accessible. We believe that, in order to stimulate the market fully, there is a need for a low-cost satellite platform design that can be produced anywhere, by anyone, and can be used as the baseline for a wide range of different missions. This is the driver for us to release Open Source Satellite design to the small satellite community as we progress through the mission milestones, with the full documentation set being available within one year of launch.
The affordability and accessibility factors will permit the creation of an Open Incubation environment in which new ideas and innovations can be developed using the performant, cost-effective Open Source microsatellite as the foundation. We foresee the creation of a virtuous circle in which the Open Source Satellite community will continuously improve the satellite design, as well as find new ways to utilize the system.
The Technology Venture activity is an integral part of our approach; we will be adopting a "spin-in" approach, leveraging the best current and emerging technologies and processes to create the Open Source Satellite, and anticipate that this will also lead to some novel "spin-out" opportunities, as the community seizes the potential of the Open Source Satellite Programme.


A future article will take a look at the business models of some of the most popular Open Source Hardware companies.
Do you have a favourite Open Source Hardware company? What do you think about AdaFruit, Arduino, BeagleBoard, OpenROV, RasberryPi and SparkFun? Let us know in the Comments section below or get in touch with us at info@opensourcesatellite.org.


www.opensourcesatellite.org exists to create an environment that supports and enables entrepreneurial and innovative thinking, with the aim of taking the next step in small satellite capabilities.
Join our community, follow us and be part of the journey!