What are the benefits of an Open Source Satellite?
In our inaugural article we discussed why we believe the time is right for an Open Source Satellite platform and the importance of building a community that will benefit and contribute. In this article we move from the philosophy to the reality: What are the benefits of an "Open Source Satellite?
Let's Re-Think What Is Possible
Our primary objectives at opensourcesatellite.org are to:
Stimulate and promote the responsible and sustainable use of space
Improve and increase access to space
Increase the price-performance point of small satellites
Create a community of interested people, teams and organisations that will create an ecosystem in which this can be done.
We believe that the time is right to shift the paradigm and stimulate ideas about how these objectives can be achieved. An open source satellite platform can be made a reality with a group of smart and enthusiastic people coming together to create a team. The open source framework will allow us to engage with a much broader set of capabilities than is possible in any single organisation; helping to ensure a better end product because of the variety of perspectives and competencies involved in identifying, articulating and solving the problems.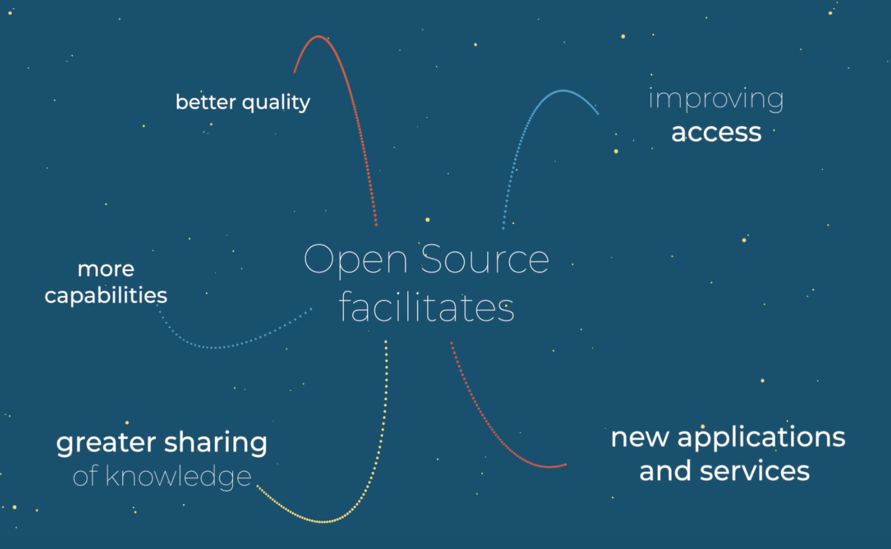 Mission Flexibility And Accessibility Creates New Opportunities
Just think about the types of missions and systems that we could collaborate to create, using a system developed with the following characteristics:
The Satellite Platform Design Will Be Openly Available To All
The purpose of the open source satellite platform is for it to be the tool – the enabler – for the next step in affordable, high-capability satellite missions. We want to stimulate and support wider interest and access to the knowledge that will catalyse the next generation of mission developers and end users. We'll be creating a library of Resources that will be made available to everyone, 12 months after the launch of our first Open Source Satellite mission.
The Satellite Platform Will Be Able To Be Customised By Customers
We want to build in the capability for customers to tailor the platform to suit their mission-specific requirements. The platform requirements for an IOT system will be different from that of an EO system and the Open Source Satellite Platform will be able to support these different CONOPS needs.
The Satellite Platform Will Be Designed Using Commercially-Available Components
We want to have the flexibility to select the most appropriate components from a large international portfolio of commercially-available, lower-cost parts.
Having a range of choices allows intelligent trade-offs to be made that align with operational requirements as well as cost and schedule objectives.
The System Will Be Designed Using Readily-Available Design Tools
We want to increase access to using space systems by lowering the barriers to entry through using or developing COTS design tools.
Dependency on proprietary design tools can be prohibitive. It's important to the Open Source Satellite programme team that this cost barrier to access is removed. COTS design tools are by nature lower cost than the majority of proprietary tools, which allows more stakeholders to participate. COTS design tools also have the potential to be of a higher quality, which is fully consistent with our philosophy that quality and cost should not be mutually exclusive.
Software Can Be Uploaded After Launch
We're all used to performing software updates on our work and personal devices, right? These updates range from updates in critical operating software, through to bug fixes and UX (User Experience) improvements.
We want our satellites to work in the same way. If, after launch, we figure out a way to improve the performance of the spacecraft, we want to be able to upload the software to make those vital changes. If the customer's mission needs change, we think that it's very beneficial to be able to reconfigure the satellite to support those changing needs. So making sure that we can upload new software to the satellite is really important to us.
The Satellite Will Not Need A Dedicated Ground Station
Compatibility with a range of ground station networks, some specifically targeted at small satellites as well as big groundstations with excess capacity will allow the satellite to be operated from many ground stations without the need for bespoke hardware.
Taking The Leap From Earth To Space
There are many in the industry who are sceptical that an open source satellite, that provides mission utility at an affordable price can be achieved and that there won't be sufficient interest or demand to make this business model work sustainably.
However, when we look back at the history of space and related areas of technology and capability it's clear that no-one can fully predict where the future will take us. For example, the first iPhone was released in June 2007 and no-one could have envisaged the imagination that it would stimulate and the opportunities that it would create.
We want to use the Open Source Satellite philosophy to open minds to new possibilities about what can be achieved if we change the affordability-accessibility paradigm for space, in the same way that it's being achieved in terrestrial applications.
This is why the open source approach is particularly appealing to us. The key traits are that, because it is driven by the sections of the community that have an interest, the requirements, as well as the knowledge and capabilities that are required, can organically be drawn together from a team of global participants, suppliers and customers.
Do you have insights and examples of how the community-driven Open Source approach has worked (or not worked) for you?
Join the conversation in the comments section below.
www.opensourcesatellite.org exists to create an environment that supports and enables entrepreneurial and innovative thinking, with the aim of taking the next step in small satellite capabilities. Join our community and be part of the journey!