Who are our Stakeholders, and what do they worry about?
An important component of developing a successful and sustainable open source satellite ecosystem is making sure that our initiative serves the needs of our stakeholders and the community .
We want all of our contributors to feel involved and listened to, be treated fairly and know that they are making a difference.
A Satellite Mission Won't Get Off The Ground If The Business Case Can't Close
We're making sure that we spend enough time considering who our stakeholders are, how and what they need to do to close their business cases and what they need to get out of an open source satellite mission.
Who could benefit from our initiative to:
Stimulate and promote the responsible and sustainable use of space,
Improve and increase access to space, and
Improve the price-performance point of small satellites – and small satellite missions?
We're considering the entire value chain, how each stakeholder derives value from satellites, and their specific concerns. Getting things started correctly is an essential factor in getting the right end results. Therefore our requirements capture activity is a critical piece of upfront work that we need to do before addressing the technical definition. 
Future articles will provide a detailed assessment of each stakeholder's unique needs, but for now we've created a summary to stimulate feedback and discussion.
Open Source Satellite Programme Stakeholder Evaluation Summary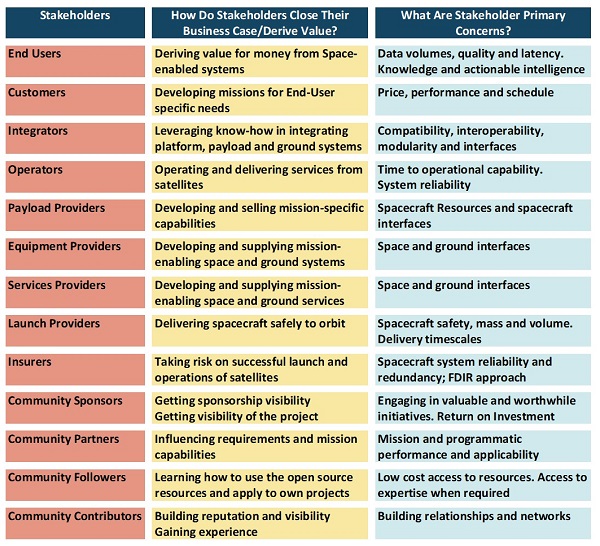 There may be an overlap between some of the stakeholders; for example, the satellite customer may also be the satellite operator, or the payload provider may also provide some of the platform or ground segment systems and services. On the other hand, some stakeholders will have very different primary concerns. However, the common factor that enables all of these different stakeholder requirements to be satisfied is the provision of a flexible, scalable, reliable, rapid-delivery spacecraft platform and supporting ground infrastructure.
We Want You To Get Involved In The Open Source Approach To Requirements-Gathering
We are evaluating the needs of each of these stakeholder participants in the requirement capture activity, and we'll be addressing these different perspectives in future articles.
As part of the open source process we will be involving our stakeholders in the requirement refinement process; through:
Contacting us directly,
Conversations and meetings,
Exchanging views in the Comments section of our articles,
Participating in our forum (stay posted for announcements about our Open Source Satellite Programme forum launch),
Taking part in our Webinars and training sessions,
Involvement in using our Resources, and
Reviewing, contributing to and refining the repository of information in our Resources area.
What type of stakeholder are you? What do you think of our stakeholder assessment summary?
Let us know what you think, in the comments section below.
www.opensourcesatellite.org exists to create an environment that supports and enables entrepreneurial and innovative thinking, with the aim of taking the next step in small satellite capabilities.  Join our community and be part of the journey!