Welcoming Oakman Aerospace to our Community
We are delighted to welcome Oakman Aerospace, Inc. "Oakman" to the Open Source Satellite Programme community.
Oakman Aerospace - Enabling your journey through space

Founded and led by a team with a wealth of hands-on international experience in a wide range of aerospace projects and companies, Oakman has a global reputation for possessing the knowledge and capabilities to enable teams to develop and implement cost-effective missions
Oakman's approach to increasing affordability and accessibility to space missions centres on creating systems, software and tools based on modular, open system architectures (MOSA).
Oakman's Advanced Configurable Open-system Research Network (ACORN) is a space system modelling and simulation platform; which, by incorporating standardised data on components, systems and reference missions allows the modelling, simulation, integration and verification of a wide range of different spacecraft systems and mission scenarios.
This high degree of system integration and responsiveness during spacecraft design, development and testing promotes opportunities for reductions in cost, schedule and risk.
Dr. John Paffett, Founder of the Open Source Satellite Programme, explains: "We are building a community of like-minded teams who consider that space missions are still unaffordable, and who believe that further industry disruption is necessary to increase access to the benefits of space. Developing spacecraft missions, and their supporting tools and systems, based on open system approaches is fundamental to achieving this; which is why we are very pleased to announce Oakman's support for the Open Source Satellite Programme".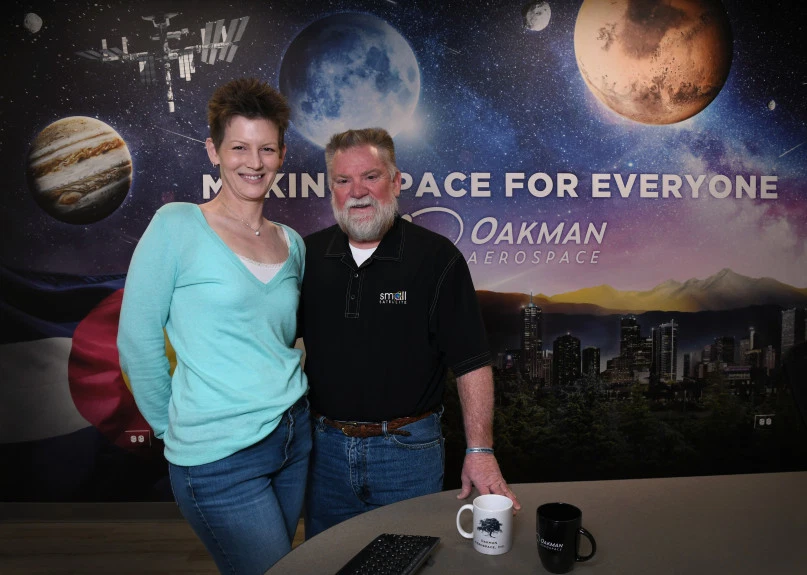 Maureen S. O'Brien, chief executive officer for Oakman Aerospace, Inc., and 
Stanley O. Kennedy, Jr., president and chief systems engineer [Credit: Kathryn Scott, Special to The Denver Post]
 Stanley O. Kennedy, Jr., President and Chief Systems Engineer for Oakman commented, "We are looking forward to working with the Open Source Satellite Programme to advance our shared vision of increasing affordable access to space for everyone."
Are you interested in joining the Open Source Satellite Programme community? Get in touch.
www.opensourcesatellite.org exists to create an environment that supports and enables entrepreneurial and innovative thinking, with the aim of taking the next step in small satellite capabilities.
Join our community, follow us and be part of the journey!